Faisal Shahzad: How easily can a bomber buy a car anonymously?
(Read article summary)
Faisal Shahzad, the suspected Time's Square bomb plotter, used an anonymously purchased SUV to carry out his attack. How easy is it to buy a car anonymously?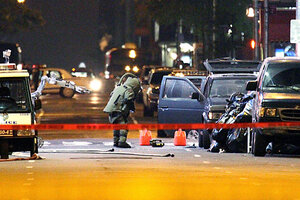 Ken Goldfield/AP
Before suspected Times Square bomber Faisal Shahzad carried out his alleged car-bomb attack, he had to buy a vehicle – anonymously, if possible.
Polices say he used Craigslist, an Internet site where people buy and sell used goods, to purchase a 1993 Nissan Pathfinder from a private seller. Mr. Shahzad paid for it in cash, with 13 $100 bills. He outfitted the car with license plates stolen from a Connecticut used auto parts shop. And he removed the vehicle identification number from the dashboard (though not the engine or axle).
Nevertheless, Mr. Shahzad was quickly identified when authorities traced his e-mail to the Craigslist seller's computer (who is not a suspect in the attack). That led to his arrest Monday night at New York's John F. Kennedy airport after he had boarded a flight to Dubai.
---