This Mother's Day, skip the gift. Join the firm.
(Read article summary)
Celebrate the rise of the mother daughter business this Mother's Day. The recession has helped to boost their numbers.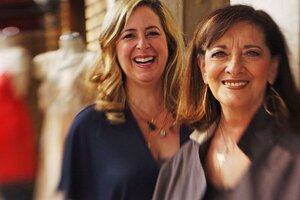 Roberto Gonzalez/Orlando/Sentinel/MCT/Newscom/File
This Mother's Day, consider giving your mom something inspired by Estée Lauder, Frieda's Fruit, or Ms. & Mrs.
No, not a gift. A mother-daughter business.
All three firms are run by mother-daughter teams (or mothers and female family members). While the father-son business has been a staple for centuries, its female equivalent now seems to be on the rise, thanks to the skyrocketing growth of women-owned businesses and a recession that's disproportionately affected men.
Although there are no concrete statistics on the number of mother-daughter businesses, "it's almost certainly a trend that is rising," says Julie Weeks, president and CEO of Womenable, an advocacy organization that promotes women's entrepreneurships. "There are more and more women in business now, more mothers are passing [businesses] down to daughters, and daughters are more interested in business now than a generation ago."
The number of women-owned businesses increased 42 percent between 1997 and 2006, according to the Census Bureau. Today, an estimated 7.7 million women-owned businesses operate in the United States.
The recession, says Nell Merlino, has also given mother-daughter businesses a boost.
"Given that 80 percent of people who lost jobs in last recession were men, the issue of being able to provide for your family as a woman has become increasingly urgent," says Ms. Merlino, founder of Take Your Daughter to Work Day and CEO of Count Me In for Women's Economic Independence, a nonprofit dedicated to helping women grow their small businesses.
---