New England, a leader in creating jobs, stumbles. Should we worry?
(Read article summary)
Only four states lost jobs in April, according to the Department of Labor. All four were in New England.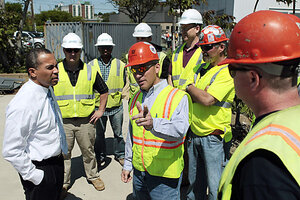 Elise Amendola/AP
If the economic outlook for United States has been brightening, it's New England that has been lighting the way.
The region avoided the brunt of the housing bust and missed the worst of the recession. Unemployment has been lower than the US average. Job numbers started growing here sooner than in much of the rest of the country.
But new employment numbers suggest that the region's recovery could be slowing.
In April, only four states in the US saw significant declines in their job rolls. All of them were in New England, according to a Labor Department report (.pdf) released Friday.
From March to April, Maine lost 6,500 jobs; New Hampshire lost 4,100; Rhode Island, 4,400; and Vermont, 1,900. Those aren't huge numbers. Massachusetts, which accounts for 60 percent of the economy, saw enough job gains to offset those declines.
Nevertheless, it's a troubling sign when a region leading a recovery stumbles.
---