With US debt, two clocks are ticking
(Read article summary)
The US debt clock reached $13 trillion this week. America's demographic clock will make it harder to pare it back.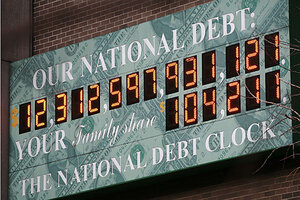 Mark Lennihan/AP/File
This week the US debt clock turned over and reached a new record: $13 trillion. That's too high – and one reason it's too high is that another clock is ticking.
America is getting older.
Cutting debt is hard enough. Cutting it when the demographic clock is running against you is much, much harder. That's the conclusion of a sobering March report from the Bank for International Settlements (BIS).
"Drastic measures are necessary to check the rapid growth of current and future liabilities of governments," the report concludes.
Here's the challenge: Advanced economies have run up such debts to fight recession that their current welfare systems don't look sustainable over the next 30 years. Their economies can't grow enough to cover the rapidly rising costs of the surge of people drawing retirement benefits and using subsidized medical care.
Scary projections
If nothing is done, the debt ratios look truly scary.
Historically, nations start to experience growth slowdowns once their debts reach about 90 percent of their gross domestic product (GDP) or annual output. Many advanced economies are hovering around that level now.
If they don't change course, nations like Austria, Germany, Ireland, and Spain would see their debt-to-GDP ratios move to 300 percent, according to the BIS report. The United States and the United Kingdom would hit 450 percent. Japan would reach 600 percent. (Click on the chart above.)
---