World Cup or NBA championship: Which is easier to predict?
(Read article summary)
The World cup is dominated by Brazil, Germany, and Italy; the NBA championship, by Boston, Los Angeles, and Chicago. Who's more dominant?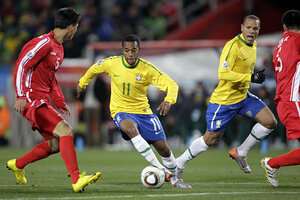 Andre Penner/AP
Which is easier to predict: the winner of the NBA championship or the World Cup?
After the Los Angeles Lakers' victory Thursday (their 16th NBA title) over the Boston Celtics (17 NBA titles), you might be tempted to say the NBA.
True, the three teams with the most titles (Boston, L.A., and the Chicago Bulls) show up with amazing consistency. One of those teams has won the title 61 percent of the time going back to 1947.
But the World Cup is even more skewed. In 18 tournaments, one of three teams (Brazil, Italy, or Germany) has taken the title 67 percent of the time.
Why such dominance? All three soccer-mad nations produce excellent players through well-developed networks that bring promising young players in contact with expert coaches. They play against challenging competition. And the World Cup itself has no restrictions or rules that try to help weaker national teams at the expense of better ones.
More balance in America?
---