Electric cars: Considering a Volt or Leaf? Lease it.
(Read article summary)
Electric cars are coming this fall. But with many unknowns, it could be more prudent to lease than buy a Chevy Volt or Nissan Leaf.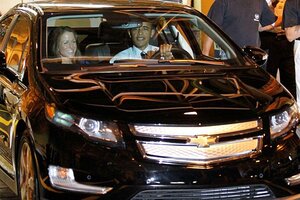 Pablo Martinez Monsivais/AP
By taking the wheel of a gleaming black Chevy Volt and driving all of 10 feet Friday, President Obama may not have convinced anyone to buy into the auto industry's new experiment.
But he did drive home one point: Mass-produced electric cars are coming. Soon.
This fall, the Volt and Nissan's Leaf will face off with dueling plug-in technologies. Next year, Ford, Toyota, and just about every other major manufacturer are likely to unveil their own electric cars. Is it time to consider buying one?
The new generation of plug-in cars come with all sorts of unknowns. How good is the technology? Will the batteries last? Will people want an expensive electric car (the Volt) that can replace their current vehicle? Or a cheaper specialized version (the Leaf) with a more limited range?
Perhaps the biggest risk of all is that gasoline prices would fall, making electric motors more expensive to run than conventional combustion engines.
There's one way to mitigate these risks: leasing. As the Monitor's Mark Clayton pointed out this week, General Motors will be encouraging customers to lease the Chevy Volt rather than buy it.
---