Tax credits for homebuyers: the downside of stimulus
(Read article summary)
Tax credits for homebuyers have IRS scrambling to correct mistakes and contain fraud, according to a new report.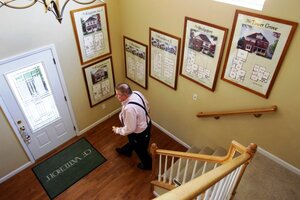 Jeff Roberson/AP
Nearly 1.8 million Americans received tax credits for home purchases in 2008 and 2009 that put up to $8,000 in their pockets and, for a time, buoyed the housing market.
Now, it's payback time and the stimulus measure isn't looking so good.
First, the housing market crashed after the tax credit expired in April. Then on Thursday, the Treasury Department released a new audit that says the Internal Revenue Service is struggling to figure out which Americans claimed the credit inappropriately.
The report sheds some light on the unintended consequences of stimulus programs.
Of the taxpayers who got the homebuyer tax credits, an estimated 73,000 -- a little over 4 percent -- had incorrect home purchase dates recorded at the IRS, according to Treasury's inspector general for tax administration.
That's not all fraud. Much of it stems from confusion over which homebuyer tax credit to apply.
When Congress first passed the credit in 2008, it was limited to first-time homebuyers and amounted to an interest-free loan worth up to $7,500 payable over 15 years. Later, Congress extended and expanded the credit, so that all homebuyers could receive up to $8,000. Best of all, they didn't have to repay the money as long as they owned the home for at least three years.
Nearly 60,000 of the 73,000 who claimed the credit bought their homes in 2009, qualifying for the government's sweeter deal, but the IRS incorrectly listed their purchases as 2008.
---