Mortgage rates: Top 5 cities to catch the wave of low rates
(Read article summary)
Mortgage rates are at or near record lows nationally. But which major cities offer the best deals on mortgage rates?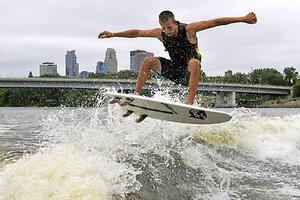 Jim Mone/AP/File
Mortgage rates are at or near record lows.
Nationally, they edged up a little for 30-year mortgages and reached a new low for 15-year fixed-rate home loans, mortgage-purchaser Freddie Mac reported Thursday. But they can vary by up to half a percentage point from one city to the next. Which metropolitan areas offer the best mortgage rates?
Here's our list of the Top 5 major metros for a 30-year fixed-rate mortage, based on data from Bankrate.com (which are averaged over the first three Wednesdays of September):

5. St. Louis – 4.67 percent average rate
Like most of our Top 5 cities, St. Louis avoided the worst of the housing crisis. Average home prices are down only about 2 percent from their peak before the housing crisis, according to the National Realtors Association.
4. Atlanta – 4.45 percent
Atlanta home prices are down 20 percent from their peak, according to the S&P/Case-Shiller housing indices, which is the second worst among our Top 5, but represents less than half the decline of a Las Vegas or Phoenix.
---