Poverty rate: Are Americans really poorer than in 1960?
(Read article summary)
Poverty rate rose to 14.3 percent in 2009, but government figures don't capture very well the long-term rise in living standards.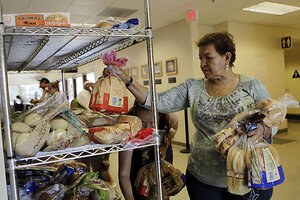 Marcio Jose Sanchez/AP
Poverty shot up last year in the United States with one in seven Americans falling below the poverty line. And it's likely to get worse, because unemployment remains stubbornly high.
But the poverty rate, as calculated by the US Census Bureau, only tells part of the story.
It makes it easy to figure out that a shocking number of Americans – nearly 44 million – couldn't afford a minimal basket of goods. That's the highest total since 1959.
What these numbers don't capture very well is the long-term improvement in living standards. And that has big political implications.
"There are so many people out there who have used for political arguments [the idea] that we've lost the war on poverty," says James Sullivan, a professor of economics at the University of Notre Dame in South Bend, Ind. "Maybe we haven't won the war on poverty, but in terms of long-term changes in deprivation, there is considerable evidence that we have made long-term progress there. And that evidence is just missed in the official numbers."
A major problem is that by strictly looking at income, as the Census Bureau does, the poverty measure doesn't capture the changes in consumption patterns.
Consider, for example, all the things that people, even poor people, have come to take for granted that didn't even exist in 1959: countertop microwave ovens, touch-tone phones, cellphones, personal computers, the Internet, e-mail, GPS systems, air-cushioned running shoes, CDs, DVDs, videogames, and modern ATMs. [Editor's note: This sentence was changed to reflect the fact that bulkier, under-the-counter microwave ovens did exist in 1959.]
---