Great recession over? Not much help to Obama on CNBC live.
(Read article summary)
Great recession gives way to tepid recovery that leaves voters worried, exhausted on CNBC live event with President Obama.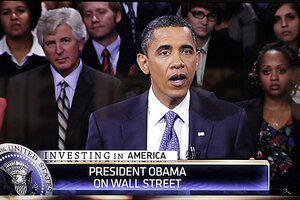 J. Scott Applewhite/AP
President Obama took the stage Monday for an hour-long "town meeting" with voters on CNBC, but it was the voters who stole the show with pointed questions about the tepid recovery after the great recession.
"I'm exhausted," said one chief financial officer, who said she'd voted for the president but was worried about the future. "Is this my new reality?"
A recent law-school graduate asked about the lack of jobs: "I really want to know: Is the American Dream dead for me?"
The president tried to sound reassuring. He empathized with voters' frustrations, pointed to his administration's accomplishments, talked about the long term.
But a report released earlier Monday made it hard for Mr. Obama to sound too encouraging about the near term. The bang of the recession has been followed by a whimper of a recovery.
The good news: the great recession – the longest in postwar America – ended in June 2009, according to a panel of economists who date recessions. The bad news, evident in data that the economists highlighted: The ensuing recovery is the most tepid yet after such a steep recession.
---