MasterCard website goes down. Payback from WikiLeaks supporters?
(Read article summary)
MasterCard website down for hours Wednesday. Anonymous Internet group called Operation Payback claims responsibility in support of WikiLeaks.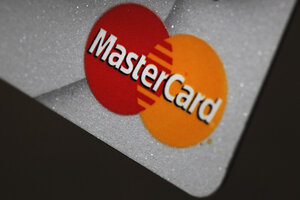 Photo illustration / Matt Rourke / AP / File
Unusually heavy Internet traffic Wednesday morning crashed MasterCard's website, brought a shadowy Internet group into the limelight, and posed an intriguing question:
Did supporters of WikiLeaks – the website that recently leaked thousands of confidential government cables and whose founder has been arrested on rape charges – successfully attack one of the world's largest credit-card companies? MasterCard cardholders could still use their credit cards, but the Purchase, N.Y., company's website was down.
It was reported Tuesday that MasterCard and Visa were no longer allowing payments to WikiLeaks via their credit cards, following in the footsteps of PayPal, Amazon, and PostFinance.
On Wednesday, a largely anonymous Internet group, called Operation Payback, claimed responsibility for the attack. It announced, via Twitter, "WE ARE GLAD TO TELL YOU THAT http://www.mastercard.com/ is DOWN AND IT'S CONFIRMED!"
Its Facebook page and website proclaimed the need for unfettered freedom to "share, know, choose," asking visitors to "Heat [sic] our wish for uncensored internet." Images of Guy Fawkes masks and clenched fists accompanied banners like, "We are the people. We are [unprintable] tired of these rich greedy corporations [unprintable] over our lives to fill their pockets. It is time to fight back."
---