Obama jobs plan: a tax cut for you?
(Read article summary)
Obama jobs plan would help employed Americans as well as the unemployed. Tax cuts under the Obama jobs plan could put an extra $300 or more in workers' pockets next year.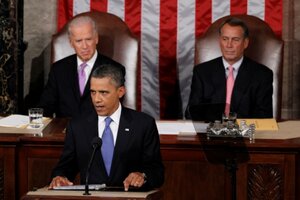 Charles Dharapak/AP
President Obama's new employment plan is partly a jobs program and partly a tax cut.
Thus, if it gets passed by Congress and if it works, employed and unemployed Americans should see some help.
Those are two very big ifs, of course. Getting anything through Congress these days is tough for the administration. Even if the Obama jobs plan does pass, government programs don't always create the number of jobs that politicians claim they will. And they don't do it very cost effectively.
Still, at a time when the recovery has stalled, doing something, anything, to address the issue is not only good politics, it could also help buoy confidence at a time when it is sinking.
So which pieces of the Obama jobs plan can get through Congress? The biggest and boldest piece is his proposal to expand and deepen the cut in payroll taxes. The idea has some advantages that could give it some political momentum:
It's already in place in a more limited form.
It's a tax cut, which should appeal to Republicans.
It includes a tax break for businesses as well as workers, which House majority leader Eric Cantor has suggested could win GOP support.
If the payroll tax cut should pass, here's what it would mean for you.
---