30-year mortgages fall below 4 percent. Time to refinance?
(Read article summary)
Although 30-year mortgages are at historic lows, some economists say rates on 30-year mortgages could fall further. So should you wait before refinancing?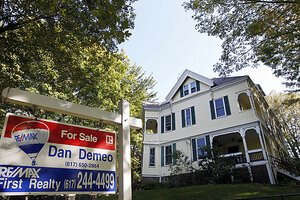 Steven Senne/AP/File
The average rate for a 30-year mortgages dipped below 4 percent for the first time in history this week.
Economic models suggest that interest rates might have been lower in, oh, about the time the Japanese attacked Pearl Harbor in 1941. So what's next?
Rates could fall further.
"I think rates are going to go lower," says Gary Shilling, an economist in Springfield, N.J. "I'm predicting we'll go to 1.5 [percent] on the 10-year" Treasury bond, which often moves mortgage rates. The 10-year bond yield dropped below 2 percent in September, leading to multidecade lows in mortgage rates.
In the week ended Oct. 6, the average conventional 30-year fixed mortgage hit 3.94 percent (with an average 0.8 points to refinance), according to Freddie Mac, the mortgage giant based in Washington, D.C. Average rates for fixed 15-year loans fell to 3.26 percent (with an average 0.8 points), also a historic low.
So is it time for you to refinance? That depends on individual circumstances.
Many homeowners don't qualify for a new loan because the value of their homes has fallen so much that they're "underwater" – they owe more on the loan than the property is worth. Others don't have enough equity left in their home to get a low rate. Still others no longer have full-time jobs – or their credit scores have dropped, making banks leery of lending to them.
Those who do qualify may be waiting for rates to go lower.
---