Sorry, Occupy Wall Street: There's no 1 percent solution
(Read article summary)
Occupy Wall Street rage is justified, but the boundary between the 1 percent and the rest of Americans is not so crisp.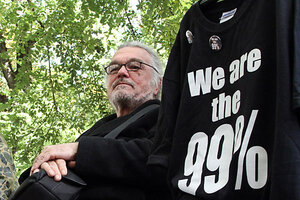 Don Ryan/AP
What started as the "Occupy Wall Street" demonstration has turned into an "Occupy fill-in-the-blank" movement – with the blank being anything we blame for our own economic troubles.
The main target seems to be the vaguely defined "1 percent" – that tiny minority of the wealthiest individuals and biggest corporations, the only ones those with economic and political power seem to serve. So the Occupy movement targets the big banks – the culprits that got us into the financial crisis. Or the millionaires, because income inequality is at an all-time high. Or Congress, the lobbyists, and others in power who have failed to do good. All of them – it's their fault.
It's not that the outrage isn't justified. Policymakers catering to the oil and gas industry, to Wall Street, and to the rich and powerful deserve part of the blame. So do banks, ratings agencies, regulators, and others who set the stage for the financial crisis that triggered the recent ballooning of America's debt. And as the wealthy have gotten wealthier, policymakers have chosen to only reduce their tax burdens.
Meanwhile, policymakers seem to care much less about the poor. The share of Americans living in poverty has steadily increased over the past decade to more than 15 percent – the highest percentage since 1993 and approaching where it was when LBJ launched the nation's "war on poverty." How is that fair?
But we also have to recognize that our economic problems began long before the financial crisis and that the boundary between the wealthy 1 percent and the 99 percent that the protesters claim to represent isn't so crisp. Those big subsidies to the oil and banking industries also benefit the rest of Americans through lower gasoline prices and cheaper credit. And the majority of American voters went along with politicians who proposed very expensive deficit-financed tax cuts and deficit-financed prescription drug coverage, even though our young people – the very core of the Occupy movement – are the ones who will be stuck with the bill.
---