US jobs: a whisper of growth when US needs a boom
(Read article summary)
The US added 80,000 new jobs last month, a positive step, but not enough to provide jobs to trim the ranks of the unemployed.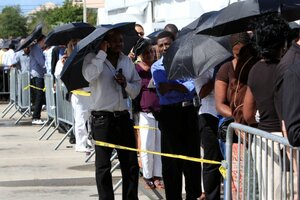 Wilfredo Lee/AP
When 2011 started, the economy seemed poise for takeoff. It wasn't just the optimists who said so. The Federal Reserve forecast that growth would speed up in the second half of the year, hiring would pick up, and the United States could begin – slowly – to lift itself out of the economic gloom.
Unemployment would fall a full percentage point in 2012 and another point or so in 2013.
Ten months on, the economy is still rolling down the runway and liftoff looks a long way off. Instead, Americans – from ordinary consumers to central bank forecasters – are hunkering down for a long and drawn out recovery.
In that environment, some analysts portrayed Friday's jobs report as a glass half full. The economy added 80,000 jobs in October, the Labor Department reported. That was somewhat less than expected. But with upward revisions of the two previous months adding an extra 102,000 jobs, some analysts reacted positively.
"The US economy continues to chug along in the face of all these headwinds," says Scot Melland, president and CEO of Dice Holdings, which runs specialized career websites in the technology, financial services, and health-care industries. "We've had 20 months in a row of jobs growth."
The unemployment rate also ticked down unexpectedly from 9.1 percent to 9.0 percent.
The problem is that these results look positive only because Americans don't seem to expect better anymore.
Exhibit 1) Consumer confidence last month fell to levels not seen since the depths of the Great Recession
Exhibit 2) One reason the unemployment rate declined in October was that the unemployed are so discouraged that they're not looking for work anymore and, thus, are no longer considered to be part of the labor force. At historic norms of worker participation, today's unemployment rate would be around 11.5 percent, instead of 9.0 percent, calculates Joshua Shapiro, an economist with MFR Inc. in New York.
---