Huge employer in China makes big step toward robots
(Read article summary)
Foxconn, a big contractor for Apple and others, breaks ground for robot facilities. It plans to replace 500,000 workers with 1 million robots.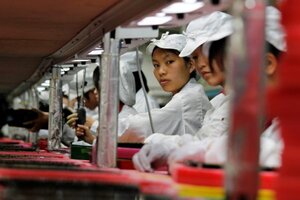 Bobby Yip/Reuters/File
When the world's largest maker and assembler of electronic components and products announced plans in August to replace Chinese workers with robots, some robot executives called it a ploy to keep their workers in line. The company didn't want to build robots, they said, it wanted to control its workers, who had complained of tough working conditions and had a spate of suicides.
But earlier this month, officials from Hon Hai Precision Industry and its subsidiary, Foxconn, took the next step, signaling a potential sea change in the electronics industry. They broke ground for new robotics R&D and manufacturing facilities in a new industrial park in Taichung, central Taiwan. Foxconn, which made its name by using cheap mainland Chinese labor to supply the likes of Apple, HP, Sony, Dell and Nokia, says it will replace 500,000 workers with robots in the next three to five years.
The plan is so sweeping that its implementation would have huge implications for China and the robotics industry worldwide. It signals that Chinese labor may no longer have the low-cost advantage it once enjoyed and that the robotics industry is ripe for change.
Start with China. Most of Foxconn's 1.2 million employees work there. So an automation plan that would replace nearly half the company's workforce suggests that the cost of those workers is rising. In a press release, the company said mass producing assembly-line type robots was part of its plan to cope with labor shortages and rising wages.
---