Italy too big to fail? Odds are it's too big to save.
(Read article summary)
With an economy seven times bigger than Greece, Italy could cost the eurozone €1.2 trillion if it requires a bailout like Greece's. That's more than Europe's emergency coffers have, even with leverage.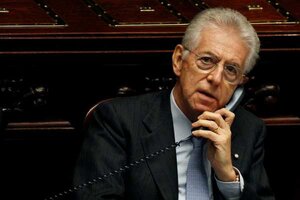 Tony Gentile/Reuters
Markets worldwide are on edge. Investors and politicians are holding their breath over the fate of Italy. Surely European nations will rush to its support. It's too big to fail, right?
The reality is more alarming: As the eurozone's third-largest economy, Italy is probably too big to save.
To understand why, look at Greece. Despite the combined efforts of the eurozone nations, the European Union, and the International Monetary Fund and €130 billion ($176 billion) in aid – a sum equal to more than half of Greece's entire economy last year as measured by gross domestic product (GDP) – Greece still faces the indignity of a partial default.
The best guess is that investors will be forced to accept a 50 percent loss on maturing Greek debt.
What would happen if a similar scenario unfolded in Italy? The market is already pricing in a possible default with each passing day as the yield spread between Italian debt and German benchmark bonds touches new euro-era highs. In a word, Europe's bailout costs would skyrocket.
Italy's economy is nearly seven times the size of Greece's. Applying the same emergency funding-to-GDP ratio that was provided to Greece, it is not unrealistic to expect about €1.2 trillion in outside aid would be needed to prevent a disorderly default in Italy.
Europe's emergency coffers don't currently have anywhere near that sum. The European Financial Stability Fund (EFSF), after providing urgent bailouts to Ireland and Portugal, currently has about €290 billion in cash on hand. Further payments are already scheduled for Greece that will further deplete the fund.
---