Forecast for 2012: recession, but not a Great Recession
(Read article summary)
Recession will last the year, but it will be shorter and much shallower than the Great Recession.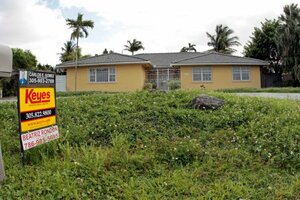 Alan Diaz/AP/File
Despite recent stronger economic data, the United States is likely to fall into a recession that will spread globally. The reason? The US has too much debt – and reducing it hurts growth.
After three decades of US consumers and financial institutions globally taking on more debt, they're now reducing debt – but it's a multiyear process and far from finished. US and European governments are also under pressure to cut debt after incurring huge deficits in the 2007-09 Great Recession. As a result, I expect slow economic growth and high unemployment to persist in the US and Europe.
In Europe, real growth as measured by gross domestic product is probably already headed down. Growth was a mere 0.6 percent in the third quarter in the 17-country eurozone. Unemployment in the eurozone was 16.3 million in October – the highest since record-keeping began in 1995 – and the unemployment rate rose to a high of 10.3 percent in October.
After the Great Recession, it's clear that a common euro currency without a centralized fiscal policy is unstable. No long-term solution is in sight, but strong eurozone countries like Germany believe continuing bailouts of weak economies like Greece, Spain, Italy, and Portugal are preferable to an outright collapse of the eurozone – in effect, they're kicking the proverbial can down the road. The effects on the US of a European recession next year are small, but the financial risks due to intertwined banks are great.
---