Working beyond 65 can be good. Is it right?
(Read article summary)
Raising the retirement age would shore up America's shaky finances while extending activity and satisfaction for many workers. But raising the retirement age isn't right for everyone.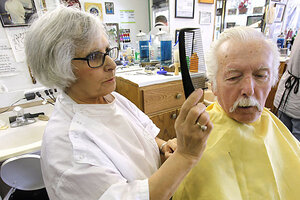 Tony Avelar/The Christian Science Monitor/File
We're all living longer these days. So does it make sense that we still retire at 65?
Raising the retirement age would involve some sacrifices, requiring people to work longer in order to receive their full benefits from government programs for retirees. But it would also help shore up America's shaky finances.
If the eligibility age for Medicare were gradually increased from 65 to 67, for example, annual Medicare spending would decline by 5 percent, according to a recent report by the nonpartisan Congressional Budget Office (CBO). If the eligibility age for full Social Security benefits gradually rose to 70 (from its current 65 to 67 depending on birth year), Social Security outlays would ultimately fall by 13 percent.
Not only would a higher retirement age reduce budget deficits, the CBO says, it would encourage people to work longer careers, increasing the economy's total labor supply and income.
Of course, budget math doesn't measure social well-being very well. Would raising the retirement age really benefit Americans' own bottom line?
I have my own take on the issue: This is the first year my dad will not be going to work every weekday, and he's turning 80 this year! He chose to work until now not because he needed the money, but because he wanted to keep his job. For my dad, 80 is the new 65.
As a chemistry professor, a profession that is much more mental than physical, he found it possible to remain productive at an older age. It's also likely that staying on the job keeps a person "young."
---