Does Suze Orman's prepaid card solve anything?
(Read article summary)
Released with great fanfare, The Approved Card from Suze Orman is supposed to help people who use cash responsibly get a good credit score. But it doesn't – and probably never will.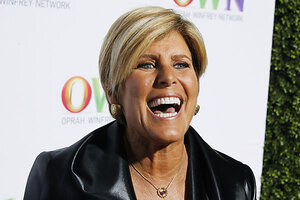 Fred Prouser/Reuters/File
After bestselling author and CNBC personal finance guru Suze Orman launched her own prepaid card, The Approved Card from Suze Orman, earlier this year, the critics pounced.
Many pointed out the potential conflict of interest: Ms. Orman is offering a self-branded financial product while also positioning herself as a consumer advocate on national television. (Orman has vowed not to discuss prepaid cards on air and says that financial gain was not behind her decision to offer the card.) Others have noted that while the Approved Card has some good features, it's being marketed in a misleading fashion by creating the false expectation that it will affect consumers' credit scores.
Here's Orman's pitch: "Currently, if you spend money on a debit card or just in cash, it does not report to a credit bureau. Therefore, it does not give you a FICO score," she told Arianna Huffington in an interview shortly following her card's launch. "I wanted to change that. I wanted to create it where the people who paid in debit cards and in cash were rewarded and people who were paying the minimum payment due on credit cards really had algorithms that applied to them."

She also noted that credit card users who only make minimum monthly payments and rack up credit card debt should not be unduly penalized, but not be overly rewarded either. This, Orman said, would "keep them out of trouble."
---