US adds 227,000 jobs. But are they well-paid?
(Read article summary)
The US economy is creating more jobs at slightly higher pay. But the averages can be deceiving.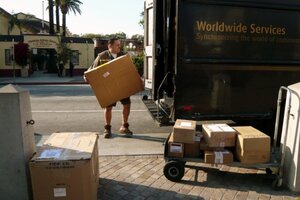 Damian Dovarganes/AP
America's job engine is starting to crank up speed. For the third month in a row, the United States has produced more than 200,000 new jobs per month. At this slow but steady pace, the economy will recover all the jobs it lost during the Great Recession by December 2013.
But are they good-paying jobs?
Take a snapshot of the economy, and the trends don't look bad. In February, employment grew by 227,000, helped by growth in almost every sector: from low-paying to high-paying positions, the Department of Labor reported Friday. And wages trended up 0.1 percent between January and February.
Private employment companies echo the view.
"The news is solid," says Jim John, chief operating officer of Beyond.com, a career networking website based in King of Prussia, Pa., that brings together employers and job seekers. "Our sweet spot [of jobs posted] is between $55,000 and $85,000 in salary. And we're seeing jobs posted in a very nice distribution across that spread."
The larger picture, however, is more sobering. The share of income going to labor instead of capital is at or near 60-year lows. Almost all the income gains since the recovery has gone to the top 1 percent of earners, according to a new report by Emmanuel Saez, an economist at the University of California at Berkeley.
A continued recovery should help alleviate the first trend, but not push labor's share of income back near previous highs. "The modest pickup so far is because the upswing has only just started," writes Paul Ashworth, chief US economist with Capital Economics in Toronto, in an e-mail. "We'll get a modest cyclical rebound, but globalization and technological advances are still driving a strong downward structural trend."
---