Existing home sales: Foreigners are buying. What's their impact?
(Read article summary)
Although existing home sales dipped last month, foreign buyers are snapping up US homes. In some markets, they may be putting an end to the downturn in existing home sales.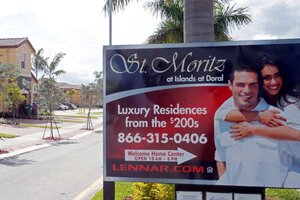 Alan Diaz/AP
The Woodlands in greater Houston is a planned community that draws middle- and upper-income families looking for good schools, safe neighborhoods, and a suburban lifestyle. So who's moving in?
Wealthy Mexican entrepreneurs escaping the violence in Mexico, says Bill Gottfried, broker and owner of a Houston real estate firm and a member of the international advisory group of the Houston Association of Realtors. In his informal polling of other brokers catering to international clients, he estimates that roughly a third of home sales in the Woodlands have been to Mexican nationals in the past year.
If the battered housing market hasn't inspired Americans to rush into real estate – existing home sales fell nearly 1 percent from January to February, the National Association of Realtors (NAR) reports – it is attracting foreigners. They're snapping up homes in increasing numbers for various reasons: Home prices have fallen, the value of the US dollar has weakened against some currencies, and the US market is seen as safe and stable. That investment is helping to stabilize US home prices, at least in metropolitan areas popular with foreigners.
Foreign sales of residential property grew nearly a third in the year ending March 2011, according to the latest figures from the NAR. At $82 billion – only about 8 percent of existing home sales – foreign purchases aren't doing too much to boost home prices in, say, Iowa. But in the states where foreign sales are concentrated, the influx of international buyers appears to be buoying the real estate market. Several of those states are the ones hit hardest by the bursting of the housing bubble.
---