US corporate tax rates must come down
(Read article summary)
Come April 1, America's corporate tax rates will be the highest in the developed world. That's bad policy for the United States.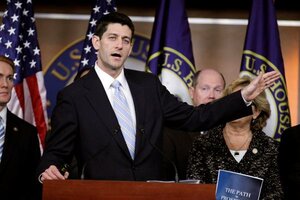 Jose Luis Magana/Reuters
April 1 is often a day for pranks. In the tax world, however, it will mark something more serious. Barring another Fukushima Daiichi-like catastrophe (which delayed its plans last year), Japan will cut its corporate tax rate by five percentage points. That move will leave the United States with the highest corporate tax rate in the developed world: 39.2 percent when you add state and local taxes to the 35 percent federal rate.
The corporate income tax is a particularly problematic way to collect tax revenues. Corporate taxes are often more harmful for economic growth than ones on personal income or consumption, as noted in a recent study by the Organization for Economic Cooperation and Development. Moreover, a high corporate rate is an invitation for US multina-tionals to play games with their accounting, locating profits overseas while reporting as many tax-deductible expenses as possible here at home.
That's why there's a growing bipartisan consensus that the federal rate needs to come down. President Obama recently proposed lowering it to 28 percent. His likely Republican challenger, Mitt Romney, wants to bring it down to 25 percent.
But corporate tax reform can't just be about lowering the statutory rate. America faces enormous budget challenges and cannot afford to simply cut future revenue. Moreover, the high statutory rate isn't the only problem with our system. The code is riddled with tax subsidies and loopholes. Those tax breaks, more generous than those in many nations, reduce corporate tax burdens significantly.
That leaves us with the worst possible system. It maximizes the degree to which corporate man-agers must worry about taxes when making business decisions but limits the revenue that the government actually collects.
---