Unemployment rate hits three-year low. Hooray? No, boo!
(Read article summary)
The unemployment rate for April was 8.1 percent, the lowest rate since President Obama took office. But the unemployment rate is falling for all the wrong reasons.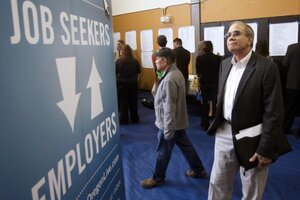 Rick Bowmer/AP/File
The unemployment rate ticked down to 8.1 percent in the United States in April, which is the lowest it's been since President Obama took office in January 2009. One might expect cheering on Wall Street and predictions of an easy reelection for Mr. Obama. Instead, the Dow Jones stock index fell nearly 150 points in morning trading Friday and Obama looks vulnerable this fall.
Why? Because the unemployment rate is dropping for all the wrong reasons.
While the economy added 115,000 net jobs in April, some 350,000 Americans gave up looking for work. That has the effect of reducing the unemployment rate because, by the federal government's calculation, those people no longer count as part of the labor force. As a result, the share of Americans who are part of the labor force – either working or actively looking for work – has reached a 30-year low.
"The 8 percent that we see for unemployment is not a full and fair picture of unemployment," says Scot Melland, president and CEO of Dice Holdings, which runs specialized career websites in the technology, financial services, and health-care industries. If the participation rate were at normal levels, the unemployment would be above 11 percent, by one estimate.
---