Credit card debt is down, but don't cheer
(Read article summary)
Credit card debt has fallen. But for those deep in debt, the picture hasn't changed much. Many still use credit cards for day-to-expenses.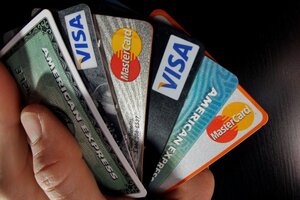 Elise Amendola/AP/File
It sounds encouraging: Since the beginning of 2010, the credit card debt of the average American household has fallen by $2,150.
From around $15,000 in 2006 to a peak of $18,000, average credit card debt then plummeted to around $14,500 by the end of 2010 and hasn't moved much since. Unfortunately, that's not nearly as good as it sounds.
Credit card debt has dropped not so much because the job market is improving or borrowers are more financially responsible. It has fallen mainly because in 2010 banks gave up trying to collect bad debt. In the second quarter of 2010, the charge-off rate, which is the percentage of debts declared uncollectible, spiked over a full percentage point from the same period in 2009. Banks took their losses and wiped those delinquent loans off their books.
The result for households? With fewer seriously delinquent accounts skewing the average, the typical household in the United States owes less credit card debt. But a greater percentage of households is indebted than in 2010. The overall debt picture doesn't look much better for most indebted households and, in one area, could be getting worse.
At $13.5 trillion, mortgages account for the lion's share of the average American family's debt. Credit cards are the third largest debt category at $803.6 billion. What takes second place? Student loans. Student debt stands at a whopping $1 trillion.
Let's do a little extrapolation. The subprime mortgage crisis was caused by too many loans to people who couldn't pay them off. The credit card bubble burst because too many cards were given to people who couldn't make their payments. Student loans are among the easiest financial products to obtain. Borrowers do not need to demonstrate fiscal responsibility or a trustworthy credit history. Virtually anyone can acquire loans to fund education. Do you see where this going?
---