Papa John's pizza controversy: Another fast-food chain embroiled in culture war
(Read article summary)
Papa John's CEO stepped into a political minefield when he said Obamacare would raise the cost of a pizza 15 to 20 cents. But is all the criticism justified?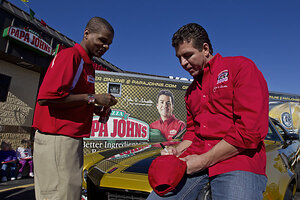 Ross Dettman/AP/File
What is it about fast food and politics? Maybe it's the super-charged presidential election or shoot-from-the-hip company executives. For whatever reason, fast-food companies are developing a knack for parachuting into the middle of political minefields.
First it was Chick-fil-A, whose president disparaged gay marriage in print and on the air, igniting a new battle in the culture war over chicken sandwiches.
Now, Papa John's chief executive John Schnatter has criticized President Obama's health-care law and said it will raise costs by 15 to 20 cents a pizza.
The blow-back has been fierce:
"Papa John's pizza extortion," ran the headline for a story Wednesday from Salon, a news website.
"Vote for Romney or we'll raise our prices" was how Daily Kos, a liberal news site, topped its story , which went on to illustrate Mr. Schnatter's links to the GOP presidential candidate..
Some Twitter users are urging a boycott of the Kentucky-based pizza chain.
But such reactions may be overdone. Was Mr. Schnatter making a political threat – or simply explaining the economics of the pizza business? You be the judge.
---