High unemployment gives Romney an edge – but it's complicated
(Read article summary)
The uptick in October's unemployment gives challenger Romney an advantage over President Obama. But elections turn on more than just unemployment.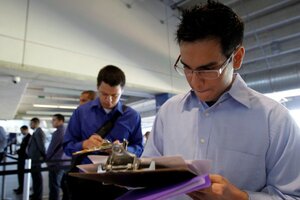 Alan Diaz/AP/File
America's unemployment rate rose slightly to 7.9 percent in October, which does not bode well for President Obama's reelection prospects.
The last time unemployment was above 7 percent in October of a presidential election year, incumbent George H.W. Bush was on his way to losing the White House to upstart challenger Bill Clinton in 1992. So the sad shape of today's economy favors challenger Mitt Romney in Tuesday's election.
But unemployment is not always a decisive factor in elections – indeed, perhaps not a decisive one at all. October unemployment was even higher in 1984 (7.4 vs. 7.3 percent) and that year President Reagan thumped challenger Walter Mondale with 58.8 percent of the vote. So Mr. Obama's supporters can take heart that elections turn on something other than the unemployment rate.
Of course, these are extraordinary times. October's 7.9 percent unemployment is the worst of any election-year October since 1940, the tail end of the Depression. Back then, it was nearly double today's rate, yet incumbent Franklin Roosevelt handily beat dark horse challenger Wendell Willkie with 54.7 percent of the vote.
---