Post election, Congress can't ignore the deficit
After midterms, Congress must tackle $1 trillion budget deficit. Proposed: crack down on tax evaders, cut non-war defense spending, and let tax cuts for the wealthy expire as scheduled.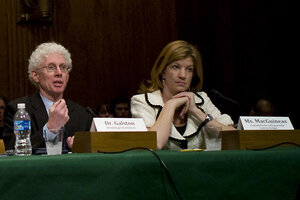 Scott J. Ferrell / Congressional Quarterly / Newscom / File
Once past the midterms and the usual campaign blarney – "no new taxes" and so on – Washington is going to have to seriously tackle the budget deficit. It's now more than $1 trillion a year, threatening to drag the United States down a dark fiscal hole.
"It must be put at the top of the national agenda," says Maya MacGuineas, president of the Committee for a Responsible Federal Budget, a Washington think tank. There are reasons to believe it will be.
Congress has to pass a budget when it reconvenes later this month. By Dec. 1, President Obama's bipartisan National Commission on Fiscal Responsibility and Reform is due to make its deficit-cutting recommendations. It might miss the deadline by a week or two. Some observers suspect it will be unable to get a necessary 14 of its 18 members to agree on a bipartisan report.
Already a host of those who submitted testimony to the commission – as well as many who haven't – have been making public their deficit-slashing suggestions. Here are a few:
---