Does the Federal Reserve need an audit?
Concern about the Fed's transparency ebbs and flows. Today, over 300 members of Congress think the time has come to audit the Federal Reserve.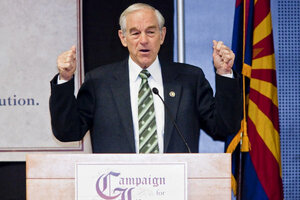 Newscom
Is the Federal Reserve too secretive? This issue has waxed and waned. It's reappearing again in Congress because the Fed failed to prevent the financial crisis and the "great recession," prompting calls for major change at the world's most powerful central bank.

The change with the most backing is a proposal by Rep. Ron Paul (R) of Texas to allow the Government Accountability Office (GAO) to audit ­– examine and investigate – the Fed's monetary policy decisions.

Fed officials adamantly oppose it.

"My fear is that if we take what could be an unpopular step, Congress will order an audit, which would be a way of applying pressure, or perceived as a way of applying pressure, to our policy decisions," Fed Chairman Ben Bernanke said in congressional testimony Dec. 3.

"Incredibly dangerous," stated former Fed governor and Columbia University professor Frederic Mishkin. The fear is that a less independent central bank, heavily influenced by politicians, will permit greater inflation.

But Mr. Paul's amendment attracted bipartisan support with more than 300 cosponsors. It became part of a broad financial-reform bill that passed the House Financial Services Committee earlier this month. The GAO can already audit the Fed's regulatory and supervisory activities. The amendment would repeal a 1978 law that forbade the agency from looking into the Fed's relations with foreign central banks and the monetary deliberations of its Federal Open Market Committee (FOMC), which sets short-term interest rates. But release of GAO findings would be delayed 180 days to ease fears of political meddling with interest rate policy.

---