An 800-year history lesson: big debts, long recovery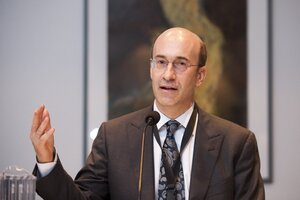 Newscom/file
If the past can foretell the future, a recent book on 800 years of financial crises is rather scary. It suggests that the United States and other countries will emerge only slowly from what is often dubbed the "great recession."
The stock market will take two to three years to get back to its peak before the crisis, the book reckons. Employment will need more than four years to creep back. House prices will need seven to 10 years to return to their earlier level.
That's a slow-growth scenario that could make the "jobless recovery" of the last recession look benign.
Over the past two centuries, financial crises have been followed within two or three years by a wave of sovereign debt crises, often bond defaults. Nations have piled up too much debt and have trouble paying back their bondholders.
That's the case today with Greece, notes Kenneth Rogoff, one author of the book and a Harvard University economist.
Financial markets fear similar troubles could flare up in Portugal, Ireland, Italy, and Spain.
Economists, of course, are not famed in general for forecasting accuracy. But so far, says Professor Rogoff, the numbers derived from this analysis of history are "on track."
Looking at postwar financial crises globally, the mean jump in the unemployment rate was to 11 percent. It reached 10.2 percent in the US. The average fall in housing prices was 33 percent; 36 percent in the US. Stock prices dropped 56 percent on average, just what they did in the US. "It has just been uncanny," says Rogoff who, with Carmen Reinhart of the University of Maryland, College Park, examined crises in 66 countries for their book, "This Time Is Different – Eight Centuries of Financial Folly."
---