Obama commission won't cut deficits. Congress will.
President Obama has created a National Commission on Fiscal Responsibility and Reform to help balance the federal budget by 2015. But few are optimistic about its ability to make substantial cuts.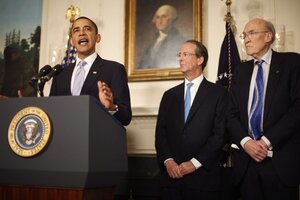 Jason Reed/Reuters/File
It's hard to find many people with high expectations for the bipartisan deficit-cutting commission that President Obama appointed last month.
The group is supposed to make recommendations to balance the budget by fiscal 2015 (not counting interest on the national debt), but neither conservatives nor liberals put much stock in it.
The United States doesn't need a commission of "old guys" to figure out what's needed to reduce the growing federal deficit and debt, says John Makin, a budget expert at the conservative American Enterprise Institute. With a December deadline (after the midterm elections), all it is doing is "kicking the problem down the road."
There's another problem: It will take a high level of agreement, 14 of its 18 members, to make any deficit-trimming suggestion to Congress, says Henry Aaron, a more liberal budget expert at the Brookings Institution in Washington.
---