The bailout's costs are big – but falling
Washington's bailout of Wall Street will likely cost far less than originally expected.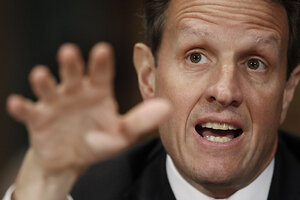 Pablo Martinez Monsivais/AP Photo
When the risky high-wire acts of Wall Street firms got them into life-threatening danger, Washington spread out a big and expensive safety net.
Some firms failed, but most fell into the net. And, as it turned out, the cost of that bailout net is turning out to be far less than originally feared. This is good news for future federal fiscal deficits.
The real cost of the bailout depends on whom you ask and what you include. Here are some estimates:
$87 billion. That's the estimate by Treasury Secretary Timothy Geithner, who told Congress the bailout's final cost could be that low after repayments and sale of assets that Washington had picked up.
That amount includes the $700 billion Troubled Asset Relief Program (TARP) that Congress approved in October 2008 as well as rescues of Fannie Mae, Freddie Mac, the auto companies, and helping homeowners.
$127 billion. That's the April 20 estimate of the TARP's special inspector general, Neil Barofsky. The losses stem mostly from AIG (the insurance giant), the automakers, and rising home foreclosures. Up to that date, the financial institutions had paid back $186 billion.
---