Cuts to US defense budget look inevitable
Defense expenditures amount to nearly 5 percent of US GDP -- well above the less than 2 percent of GDP spent by such allies as Canada, Germany and Britain. Analysts predict the US will have to cut military spending significantly in the next few years.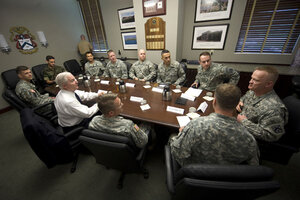 Cherie Cullen/U.S. Department of Defense/AP/File
It's bigger than Wal-Mart, employs more people than the United States Post Office, and far outspends all its competitors.
It's the US Department of Defense. Next year, though, budget cutters in Congress and the White House will probably begin cutting it down to size in order to slash America's outsize budget deficit.
There are related reasons: The US war effort in Iraq is winding down; President Obama may start pulling out of Afghanistan; NATO allies are moving to slash their military outlays. Most of all, budget cutters can't afford to ignore an area as vast as defense.
The need for serious deficit reduction and a loss of political support for high defense spending make cuts inevitable, says Gordon Adams, a defense expert at American University.
---