The other recovery to watch: world trade
World trade suffered its worst slump since the Great Depression in 2008 and 2009.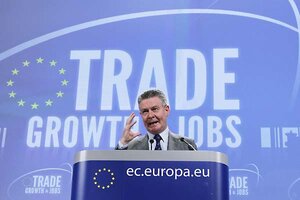 Francois Lenoir / Reuters
The Great Recession has had many victims, including the stock market, housing, and the jobs market. There's also a lesser-known casualty, yet one important to American economic revival: world trade.
In 2008 and 2009, world trade suffered its worst slump since the Great Depression. The World Trade Organization (WTO) in Geneva predicts 10 percent trade growth this year, measured in price terms. But the volume of trade has not rebounded fully yet, veteran trade consultant Harald Malmgren says.
That insufficient recovery was a problem for the Group of 20 finance ministers when they met in South Korea last month and tried to discourage a round of currency devaluations.
In the past, world trade has usually grown twice as fast as world gross domestic product. So more than 100 nations, especially places like China and Vietnam, oriented their economic strategies toward pushing exports. They hoped to bring prosperity faster than if they relied chiefly on domestic markets for growth.
---