Cut America's debt, but spare Social Security
Congress can cut the budget without hurting Social Security, Medicare, and other social insurance programs.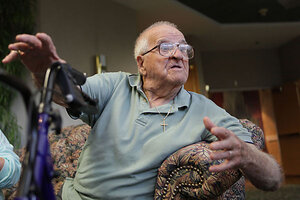 J Pat Carter/AP/File
America is whipping itself into a frenzy because of debt. Listen to the chairmen of President Obama's bipartisan fiscal commission and other deficit-cutters and you're likely to hear an "underlying moral tone," as economist John Irons puts it. The debt-cutters say Americans need to:
•Face up to hard times.
•Punish themselves.
•"Purge the soul of the evil deficit-spirit," says Mr. Irons, research and policy director at the Economic Policy Institute (EPI), a liberal think tank in Washington.
It's not that more budget discipline isn't needed. A MacArthur Foundation poll finds that more than 70 percent of midterm voters say it is "very important" that Congress take steps to reduce the national debt. Another 24 percent say it is "somewhat important."
But does it have to be so punitive? Irons is one author of a new "budget blueprint for economic recovery and fiscal responsibility" that would spare low-income and moderate-income families from the "drastic cuts" and some other austerity measures in the chairmen's plan.
"We strongly oppose the idea that America's fiscal challenges should be solved by cutting longstanding social insurance programs [ Social Security, Medicare, Medicaid, etc.] that have brought security and prosperity to millions of Americans," says the 84-page "blueprint" drafted by the EPI, Demos, and the Century Foundation. These programs "have proven to be effective mechanisms for limiting widespread catastrophic hardship" during the Great Recession.
---
Follow Stories Like This
Get the Monitor stories you care about delivered to your inbox.