How best to boost the 'working poor'?
Nearly 1 in 3 working families now qualify as 'working poor.' More affordable college – and a more progressive tax system – would help.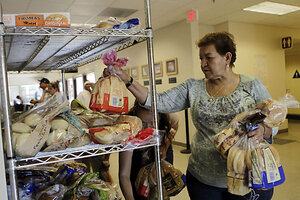 Marcio Jose Sanchez/AP/File
The Great Recession has badly damaged the "American dream" – the national ethos that everyone can move toward a richer and fuller life according to their work and ability, regardless of social class and circumstance.
"We are moving away from shared prosperity," says Brandon Roberts. "It is disturbing."
Mr. Roberts is lead author of a new study of "working poor" families, the nearly 1 in 3 working families who earn less than 200 percent of the official poverty threshold. These are families who do have a member working steadily, but are "hard-pressed to stay afloat in the weak economy," he says. They are one paycheck away from major financial difficulty.
The poverty line varies according to state and size of family. But for a family of four it runs about $22,000 in Washington, D.C. The families of the working poor earn more than that, so they don't qualify for all sorts of aid, but they still have to manage on less than $44,000 a year in the nation's high-priced capital.
In 2008, the first year of the Great Recession, these families already represented 28.8 percent of all working families. A year later, they made up 30.1 percent – an increase of 250,000 families, Roberts says. These families numbered 45 million people, including 22 million children.
"The plight of these families now challenges a fundamental assumption that in America work pays," notes the study by "The Working Poor Families Project."
"There is really broad-based distress," says Lawrence Mishel, president of the liberal Economic Policy Institute in Washington. American incomes "remain substantially below what they were before the recession."
---