Back to basics by getting back to civics education
(Read article summary)
The No Child Left Behind Act has crowded out civics learning in America's schools. It's more than memorizing the names of all the presidents, as former Supreme Court Justice Sandra Day O'Connor shows with her "iCivics" computer game. I tried it, and learned something.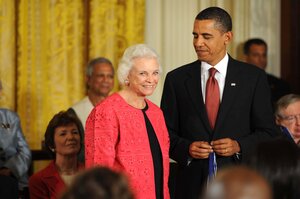 Newscom
I played a free computer game at the office today. It's called "Supreme Decision," and it simulates decision making as a Supreme Court justice. The case tests free speech rights, and features a boy forbidden by school rules from wearing a T-shirt depicting a certain music band. I got one segment wrong and had to do it over. So much for being an experienced journalist in Washington.
It was a learning and entertaining exercise, which is what it's supposed to be. The game can be found at iCivics.org and is part of former Supreme Court Justice Sandra Day O'Connor's web-based project to push civics education in the United States.
In an interview on ABC's Good Morning America this week, Justice O'Connor said that about half the states have stopped making civics and government a requirement for high school. She attributed this to the No Child Left Behind Act of 2002 (NCLB), explaining that the focus on reading and math crowded out civic education.
The nation is in trouble when 2 of 3 Americans can name a judge on the TV singing competition, "American Idol," but only 1 in 7 can name the chief justice of the highest court in the land. Barely a third can even name the three branches of government, let alone how they fit together.
If people don't understand how government works or why their participation in it is vital, they can't expect to get good government or control its impact on their lives. Healthy democracies depend on healthy civic participation. One senses that greater civics awareness might also ratchet down the escalating uncivilized political rhetoric in the country.
---