Ban plastic bags in California? It's not so hard to adjust.
(Read article summary)
It looks like California is about to ban single-use plastic and paper bags at many stores. We Washingtonians have had to comply with a plastic-bag ban since January, or else pay 5 cents per bag. I forgot the first few times. But it didn't take very long to remember my totes.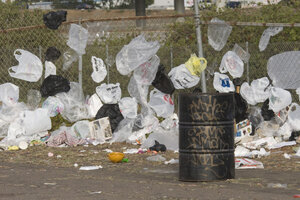 zumawirewestphotos/Newscom
It looks like California is about to become the first state in the nation to ban single-use paper and plastic bags at grocery, convenience, and other stores.
Last week, the Democratic controlled Assembly passed AB 1998, which will require shoppers to bring their own bags or else purchase recycled bags or reusable totes. It's all about controlling those "urban tumbleweeds."
Republican Gov. Arnold Schwarzenneger says he'll sign the bill, but it's not without controversy. Critics cite lost jobs from recycling programs, cost, and inconvenience.
On one of those, I can offer some reassurance. It's really not that hard for consumers to make the switch.
Here in Washington, D.C., a plastic-bag-ban went into effect at food and grocery establishments on Jan. 1. You must pay 5 cents per needed bag if you don't bring your own. The tax was designed to wean consumers from the ubiquitous plastic bags and help financially support pollution-control efforts for the Chesapeake Bay watershed.
I forgot the new law the first few times, and then quickly learned to keep a balled-up plastic bag in a compartment of my purse for lunch and convenience-store purchases. It's not a particularly elegant solution, but it works. My husband and I also store a couple of strong tote bags in each of our cars. Grocers in our neighborhood pack your totes for you.
---