Supreme Court on transparency vs. anonymous speech
(Read article summary)
Thursday's Supreme Court decision about a gay marriage case sheds interesting light on America's political values.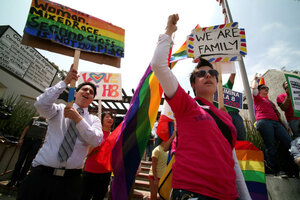 Aurelia Ventura/La Opinion/Newscom
President Obama made greater transparency one of the major pledges of his new administration. And Western nations often grade the progress of developing countries in terms of their commitment to transparent government and business practices.
But transparency has a dark side. And a Supreme Court ruling Thursday showed that we may want to think harder about how our affirmation of transparency may, in fact, conflict with another cherished right: freedom of speech, including anonymous speech.
In a case resulting from a Washington state referendum about a same-sex domestic partnership law, high court justices ruled 8 to 1 that it's OK to make public the signatures on political petitions.
Essentially, gay rights supporters wanted to make public the names of those who signed R-71 petitions in a bid to overturn Washington's "everything but marriage" same-sex domestic partnership law (Washington voters ended up affirming the same-sex law). Defendants insisted that signatures, like Election Day ballots, should remain anonymous and a form of speech protected under the First Amendment. But the court decided that the benefits of disclosure outweighed its burdens. [Editor's note: The original article wrongly indicated that the Supreme Court ruling grew out of California's Proposition 8.]
---
Follow Stories Like This
Get the Monitor stories you care about delivered to your inbox.