Hillary Clinton in Pakistan: building trust
(Read article summary)
US Secretary of State Hillary Rodham Clinton is showing America's long-term commitment to Pakistan by announcing US development aid that will eventually amount to $7.5 billion. Assistance with electricity, water, and health are practical steps that can help build Pakistani trust in America.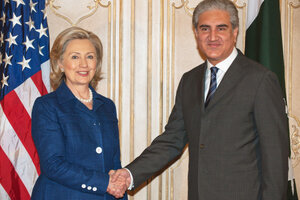 AFP Photo/ POOL / Paul J. Richards/Newscom
In announcing $500 million to help Pakistanis generate more electricity, the US is putting its money where its mouth is. And that could make all the difference in restoring Pakistani trust in America.
Hillary Rodham Clinton made the announcement on her two-day trip to Pakistan, the second visit since she became secretary of State. This touch-down went much better than her first one, perhaps because she followed through with concrete help to improve Pakistani lives – and prove America's commitment to this key player in the war in Afghanistan.
Many Pakistanis are skeptical and critical of the United States. They resent America abandoning them after Pakistan cooperated with the US to drive the Soviets from neighboring Afghanistan, and also Washington's post-cold war warming with Pakistani arch-rival, India. They don't like America's unmanned drone attacks on insurgents hiding in Pakistan – attacks that also sometimes kill civilians. They didn't appreciate Washington's steady support for former dictator Gen. Pervez Musharraf, nor the imbalance in US aid, almost all of it military.
The Pakistani media, particularly, are rife with strident accusations. They've made wild claims that the US is behind suicide bomb attacks in their Muslim country, and that America's real goal is to take over Pakistan's nuclear weapons.
---