A supersized attack on McDonald's Happy Meal toys
(Read article summary)
Concern about childhood obesity is driving calls to ban toys that have kids clamoring for a McDonald's Happy Meal. But it is not government's role to decide the dinner menu. Consumers have the power to demand more "healthy" choices, and food producers and retailers are responding.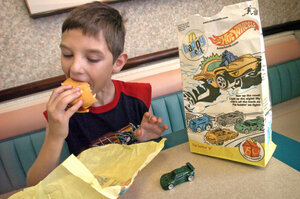 File photo/Newscom
Parents are unhappy about the attack on McDonald's Happy Meals for kids.
Because of concerns about childhood obesity, a US consumer group wants McDonald's to stop using toys that lure kids to these meals. In April, Santa Clara, Calif., banned toys for any meal over 485 calories. (Happy Meal calorie counts range from 390 to 580, according to the McDonald's nutrition web site.) Now San Francisco is mulling a similar ban.
(For a Monitor news story on the Happy Meal controversy, click here.)
McDonald's CEO Jim Skinner, however, says phone calls and web comments are running overwhelmingly against a ban – with 9 out of 10 customers disagreeing with the idea.
"Parents, in particular, strongly believe they have the right and responsibility to decide what's best for their children…It really is that simple," Mr. Skinner said in a written statement July 6.
---