A bullet across the Rio Grande: How fares the war on drug lords in Mexico?
(Read article summary)
A stray bullet hit El Paso, Texas, from the Mexican side of the border Saturday. It was the latest spillover of a war on drug barons waged by President Felipe Calderón. After nearly four years, the war needs more than a military solution.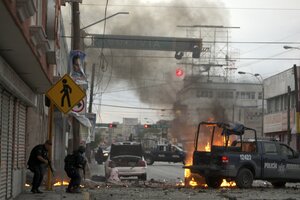 Diego Aguilar Caudillo/dpa/Newscom
Last Saturday, a stray bullet flew across the Rio Grande from Mexico and into a school door in El Paso, Texas. It was suspected of coming from a shoot-out between police and a gang in Ciudad Juárez, a mile or less away.
Juárez is the murder capital of Mexico while El Paso is one of America's safest cities. This latest spillover from Mexico's war on drug lords set off fresh concerns in the United States, with Texas Gov. Rick Perry quickly asking for more federal help in security.
Security, however, is more than border agents, fences, and other types of law enforcement. Just look at Mexico's military campaign against organized crime. Launched in 2006 by President Felipe Calderón, more than 28,000 people have been killed so far, most of them related to the drug trade. And yet, the end of this struggle for supremacy is not in sight.
In fact, the tactics of the drug groups has shifted. They now resemble those of the Taliban, using car bombs and other high-profile weapons. And the aims are more aggressive, with big-name politicians targeted.
"The behavior of the criminals has changed and become a defiance to the state, an attempt to replace the state," President Calderón said this month.
---