Mark Zandi: One economist who's expecting clear skies in another year
(Read article summary)
At a Monitor breakfast this week, economist Mark Zandi listed several reasons why he's optimistic about the American economy. In six to 12 months, 'we are going to be surprised at how well the economy is doing.'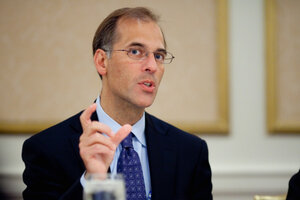 Michael Bonfigli/Special to The Christian Science Monitor/File
Just when America is feeling blue again about the economic outlook – a sharp drop in housing sales is the latest reason to sigh – along comes a credible someone to cheer us all up.
Not about the near term, mind you. Mark Zandi, the chief economist of Moody's Analytics and co-founder of Economy.com, told reporters at a Monitor breakfast Aug. 25 that the next six months or so will be rough.
But he's an optimist after that. "I firmly believe that once we get by the next six to 12 months we are going to get our groove back and we are going to be surprised at how well the economy is doing."
Mr. Zandi is just one voice, but people do listen to him. He advised John McCain's presidential campaign, for instance. Last year, The Wall Street Journal called him the "defacto chief economist to Congress."
Here are some of his reasons for optimism:
The American household has its personal balance sheet in order. At least that's true of the consuming public that does most of the buying – those above the median household income of $55,000.
---