Israeli-Palestinian talks: How to keep saboteurs at bay
(Read article summary)
Even before the Israeli-Palestinian talks began Sept. 2, an attack by Hamas and a death call by a prominent Jewish rabbi have signaled that extremists want to derail the negotiations. Benjamin Natanyahu and Mahmoud Abbas need to rally the center.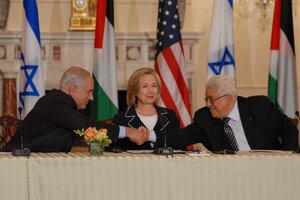 Elisa Miller-PHOTOlink/NEWSCOM
In coming weeks, if all goes well, the spotlight in the Middle East will be on direct talks that started Thursday between Israel and the Palestinian Authority (PA). The two sides promise to meet every two weeks.
But beware. Sabotage of the talks began even before they were launched in Washington. The likely aim? The derailing of any peace deal that creates a Palestinian state, a result known as the two-state solution.
The most serious attempt came from Hamas, the Islamist group that rules Gaza. It took credit for the killing of four Israelis Aug. 31 – leaving seven children orphaned – in the West Bank.
On the Israel side, the spiritual leader of the fourth-largest political party in the governing coalition, Rabbi Ovadia Yosef of Shas, called on God to kill the Palestinian Authority president, Mahmoud Abbas.
With opponents like these, can the center hold as these talks go on?
---