The American public and homegrown terrorism: See something, say something
(Read article summary)
The Islamic terrorist threat to America is shifting to smaller, homegrown plots, US officials told the Senate this week. And that means the public has a greater role to play, as this writer realized.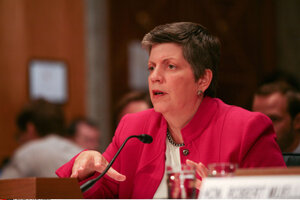 FABIANO/SIPA/Newscom
The terrorist threat to the United States from Islamic extremists is shifting from one-off spectacular events to the smaller, homegrown variety, US security officials told the Senate this week.
That makes planned attacks on American soil more difficult to detect and disrupt. And that's where you and I come in.
"See something, say something," is an advertising campaign from the Department of Homeland Security (DHS) that's being expanded throughout the country. It asks the public to stay alert, and if people see something suspicious, to report it.
Here in Washington, D.C., the DHS public service announcement sometimes broadcasts over loudspeakers in the Metro subway stations. It blends in with the rumbling arrival and departure of trains, and I don't take much notice of it.
But at an area restaurant recently, an opportunity arose to follow through on the appeal. What surprised me was how strongly I hesitated to speak up.
It was Labor Day, and it seemed as if half of Washington was dining at the popular Sequoia restaurant on the waterfront in historic Georgetown. The restaurant features a large outdoor terrace that overlooks the Potomac River. My husband and I sometimes take guests there.
And so we did on that unusually temperate, cloudless evening, when we sat at a table for four. At the table to my right, a fashionable young woman dined alone. I couldn't help but notice her: bleach-blond hair, heels the height of the Washington Monument, and an enormous purse.
---