US voters are ready to 'throw the bums out' on Election Day. But who are the bums?
(Read article summary)
Hostility to incumbents is strong this fall. Animus against the 'elite' may be stronger.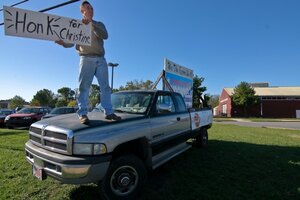 x05/ZUMA Press/Newscom
Other than 1894, when Republicans won a staggering 130 seats, next Tuesday is shaping up to be the mother of all "throw the bums out" midterm elections.
But who, exactly, are the bums?
According to the latest polls, anti-incumbent sentiment is running higher than anti-Democrat feelings among American voters. Indeed, the latest Rasmussen survey shows that 65 percent of voters want to replace the entire Congress this fall and start all over again.
One Florida Republican congressional candidate, Bernard Sansaricq, applauded the poll's finding: "Being American implies a duty; not to fulfill that duty is a treason. We must take the trash out next Tuesday. Vote all incumbents out of office. Let's clean the people's House in D.C. and replace them with true patriots."
Mr. Sansaricq's rhetoric suggests that incumbents are just a convenient surrogate for the real target in 2010: out-of-touch political elites.
The anti-elitism card
Anti-elitism is one of the major themes expressed by tea party candidates.
---