To wit: Comic relief needed in Burma after release of Aung San Suu Kyi
(Read article summary)
The comedian known as Zarganar remains in a Burmese prison even as Aung San Suu Kyi is released. His humor was the bane of the ruling generals. He must not be forgotten.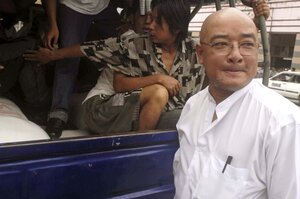 Jules Motte - ABACAPRESS.COM - NEWSCOM
This is no joke: The Burmese need to laugh their way to freedom.
Political humor has long been a necessary outlet for the people of Burma (or Myanmar) ever since they began their long struggle against military rule in 1988.
And while Aung San Suu Kyi has been the face of that political fight, it is a famous comedian known as Zarganar ("tweezers") who has really touched the people with biting wit during his performances in the midst of pro-democracy protests.
Need proof of his comedic clout?
Ms. Suu Kyi was freed Saturday after 18 months of house arrest while Burma's leading funny man remains stuck in a notorious prison – with more than three decades to go on a sentence. Zarganar was arrested in 2008 after criticizing the military for not doing enough to help the victims of a giant cyclone.
In 1989, after Zargarnar served his first of three prison sentences, I was able to locate him for an interview – but it wasn't easy. He was in hiding from the government. Just finding him was funny enough.
I went to his house in Rangoon (or Yangon) and after knocking on the door, someone in the shadows whispered, "Psst, go to his father's house." So I went across town to his father's house, and only after a safe period did Zarganar finally make a dramatic entrance, smiling and cracking jokes.
---