Say it ain't so. Sears will open on Thanksgiving Day
(Read article summary)
As will Kmart. If retailers keep gnawing at this national day of togetherness and gratitude, there will be nothing left of Thanksgiving but a picked-over turkey.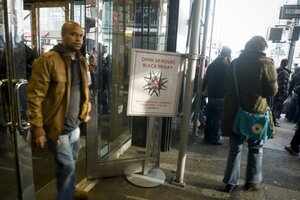 RICHARD B. LEVINE/Newscom/File
The news that Sears will open its stores on Thanksgiving Day is enough to turn my gravy lumpy.
It's a first for Sears, which will stay open from 7 a.m. until noon. But the retailer won't be alone. Kmart was open last year all day, and will swing open its doors again – even while cooks across the nation prepare their feasts and families gather to give gratitude, some in houses of worship.
We all know what's driving this retail irreverence: Ever fiercer competition for that first Christmas-season shopper. This year, the lackluster economy has retailers nervous about their biggest selling time, and it has recession-weary shoppers on the lookout for the deal to beat all deals.
Even from a bottom-line point of view, there's no guarantee that opening on Thanksgiving Day will make any appreciable difference in total sales for 2010. This year, post-Thanksgiving "Black Friday" bargain extravaganzas were advanced to before Halloween, spreading out the selling season. In 2008 and 2009, shoppers bought earlier, but spending was weaker.
Let's suppose, though, that being open that day does make a commercial difference. Must America always put shopping first?
We do that on Veterans Day, Memorial Day, and Presidents Day, all occasions that deserve reverence but instead have become commercialized. Is this what's to become of Thanksgiving Day, which many people describe as their favorite holiday of the year? This holiday unites all Americans, regardless of their religious beliefs. It reminds them of the country's against-all-odds founding from 1620 on. It celebrates triumph over adversity and the comfort of family and friends.
---