Airport pat downs and body scans: My questions for TSA chief Pistole
(Read article summary)
Like a lot of the flying public in America, I have doubts and concerns about the new airport security screening methods. What about loopholes? What about effectiveness? What about profiling? I put these questions to TSA chief John Pistole at a Monitor breakfast today. Here's what he said.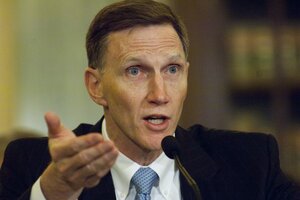 Scott J. Ferrell/Congressional Quarterly/Newcome/file
Like a lot of Americans, I have doubts and questions about ramped-up airport screening, especially since I'll be flying in the coming weeks.
Unlike most people, though, I had a chance to put some of my concerns directly to the head of the Transportation Security Administration at a Monitor breakfast with reporters this morning. Happily for me, I squeezed in probably more than my fair share of questions. Here's what I asked TSA chief John Pistole, who has more than 25 years with the FBI in his background. And here's how he responded:
First off, I wanted to know why the entire country has to go to a whole new level of invasive screening, when a known loophole exists for terrorists to get around this?
I asked specifically about body cavities; they are not included in the screening. It has been widely reported that a terrorist from Al Qaeda on the Arabian Peninsula got close to the Saudi intelligence chief and detonated an explosive hidden in the terrorist's body cavity. The suicide bomber was killed; the Saudi minister was injured but survived.
Mr. Pistole's answer taught me something. He said that initial reports about the Saudi case were "perhaps not accurate." Forensics show a "stronger indication and findings that [the explosive] was actually ... strapped to the upper thigh, as opposed to it being a body cavity." Later on, Pistole commented that "every piece of information I have says the terrorists have not been successful in using ... a body cavity."
---