Beauty contests, Nobel Peace Prize, and science awards -- Asian style
(Read article summary)
China tries to outflank this year's Nobel Peace Prize with its own Confucius Peace Prize. As I learned as a judge at Japan's Miss International beauty contest, rising Asian nations aren't always good at besting the West.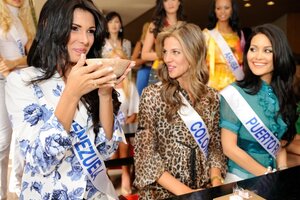 AFP PHOTO/Toru YAMANAKA/NEWSCOM
When a rising Asian nation tries to create its own version of a popular event from the West, watch out.
The latest example comes from China. It is trying to upstage the Nobel Peace Prize by awarding a "Confucius Peace Prize" on Thursday -- a day before the 2010 Nobel prize is to be given to a jailed Chinese dissident, Liu Xiaobo.
The Chinese award is an obvious ploy to confuse people about the worth of the Nobel prize. And just to make a point, it is being given to a politician from Taiwan (or the Republic of China, as Beijing refuses to call it) who has tried to find common ground between the mainland and the island country (which Beijing does not call a country).
China's move to outdo a prominent Western tradition follows in the footsteps of Japan, an earlier, rising Asian giant.
In 1985, Japan set up an annual "Japan Prize" to imitate the Nobel prizes for scientific and technological breakthroughs – partly out of a worry that so few Japanese researchers had ever won a Nobel. This prize serves as an alternative award meant to include different categories of science, notably mathematics. (Alfred Nobel did not include that field in his list of prizes allegedly after one of his lovers left him for a mathematician.)
Another Western tradition that Japan has tried to imitate is the global beauty pageant.
---